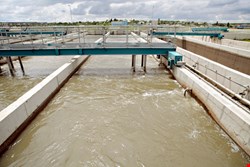 A full 41% of the 198 reported incidents involving US industrial control systems came from water treatment and supply facilities, according to the 'ICS-CERT Incident Response Summary Report'.
The next most targeted sector was the energy sector (16%), followed by government facilities (6%) and the nuclear sector (5%).
"Incidents specific to the water sector, when added to those that impacted multiple sectors, accounted for over half of the incidents due to a large number of internet facing control system devices reported by independent researchers", the report noted.
By contrast, in 2010, the most targeted sector was energy, with 44% of the 41 reported cyber incidents, followed by the nuclear (12%) and water (10%) sectors. In 2009, water and energy were fairly evenly split, with 34% and 33% of the reported incidents, respectively.
Of the 198 reported incidents in 2011, only seven resulted in deployment of an onsite incident response team; of the 41 reported incidents in 2010, only eight required an onsite team; of the nine reported in 2009, two required an onsite team. For 2009, ICS-CERT only collected information in the last two months because it was formally established on Nov. 1 of that year.