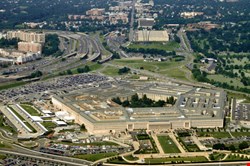 The plan is to tap BlackBerry's mobile device management (MDM) server to support 10,000 BlackBerry 10 smartphones by this fall and 30,000 by the end of 2013 on DoD networks. The move is a follow-on to last November's announcement that BlackBerry was approved as meeting a National Institute of Standards and Technology (NIST) standard, the Federal Information Processing Standard (FIPS), which allows restricted communications from BlackBerries on the networks. The ATO approval on the other hand demonstrates that the MDM approach for BlackBerry 10 smartphones meets DoD's most stringent security requirements, so that DoD personnel to have the ability to securely connect to networks and access assets from work with fuller functionality. Personal and the corporate information on a user's phone are kept in separate silos.
BlackBerry is the first MDM provider to obtain an ATO. Earlier in the year, the DoD announced that it was assessing commercial bids for a secure mobility management system to accompany a big overall smartphone push: the military plans to more than double the number of secure mobile devices deployed, by 2014.
The smartphone push overall meanwhile continues. In May, the DoD approved the use of Samsung's hardened, secure version of Android (dubbed Knox) in smartphones used by the military, along with BlackBerry 10 devices. Prior versions of BlackBerry phones were previously the only allowed devices for the armed services.
DoD spokesman Lt Col Damien Pickart said at the time that the move to approve Android devices is "the first step of a strategy that would let soldiers use many different types of devices, both smartphones and tablets, during their tours of duty."
The DoD supports around 600,000 smartphone users, 470,000 of whom were using Blackberry handsets. The other 130,000 are part of a trial initiative to test iPhones and other Android devices for security approaches.

"Being the first smartphones to be supported on U.S. Department of Defense networks further establishes BlackBerry's proven and validated security model," said Scott Totzke, senior vice president for the BlackBerry Security Group, in a statement. "With foreign entities – governmental and criminal – ramping up attacks on electronic communications and information systems, BlackBerry provides government agencies with a proven partner that follows top-to-bottom security protocols."