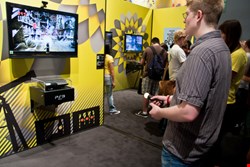 The contract is described as an "R & D effort for the development and delivery of computer forensic tools for analyzing network traffic and stored data created during the use of video game systems," and will not, we are told, be used against US citizens (which would be illegal). The rest of the world is fair game.
The $177,000 contract has been awarded to Obscure Technologies. It involves being able to source second-hand games consoles from abroad, and to develop tools that can both access online communications, and data stored on the consoles' hard disks. Online, one of the requirements is to "design a prototype rig for capturing data from new video game systems." Offline requirements include the ability to "extract real data from used video game systems."
Obscure Technologies was apparently given the contract because of its ability to source second-hand consoles, its experience with games consoles, and a "lead scientist having previously reverse engineered the Microsoft Xbox."
Much of the communications data will simply be gaming nerd chatter; but many hackers are also ardent gamers. Law enforcement is clearly hoping to unearth a new treasure trove of data. A report in Foreign Policy magazine states that "the FBI warns that pedophiles often use online gaming forums as their hunting grounds. However, 'there is a suspicion' that terrorists are also using online games to communicate, says John Verrico, spokesman for DHS's Science and Technology Directorate."
Civil liberties groups are not surprisingly concerned, with EFF's Parker Higgins quoted in an RT report: "Just because it's a form associated with games doesn't mean it deserves less privacy protection."