The US Justice Department (DOJ) has charged two Chinese intelligence officers believed to be part of advanced persistent threat group APT10 with allegedly engaging in cyber-espionage and conducting ongoing campaigns targeting the intellectual property of technology-service providers in the US and around the globe, according to The Hill.
Deputy attorney general Rod Rosenstein, accompanied by other US officials at the DOJ, reportedly charged the two men, Zhu Hua and Zhang Shilong, with conspiracy to commit computer intrusions, conspiracy to commit wire fraud and aggravated identity theft in alleged cyber-attacks targeted at dozens of private companies and government agencies in the US.
"We want China to cease its illegal cyber activities and honor its commitment to the international community," Rosenstein reportedly said in remarks this morning.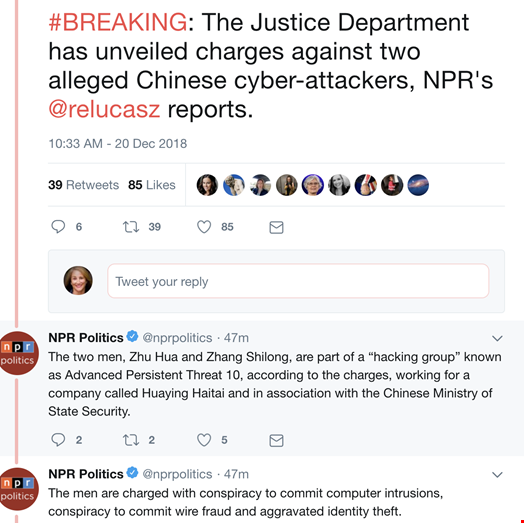 In a news conference on Thursday, FBI director Chris Wray said, "China's goal, simply put, is to replace the US as the world's leading superpower and they're using illegal methods to get there," according to Reuters.
As was anticipated, several allied countries, including the UK, Japan and Australia, have begun issuing statements in support of the actions taken by the US government.
The Evening Standard has reported that the Foreign Office has accused a group affiliated with the Chinese Ministry of State of launching a "'widespread and significant' campaign of 'cyber intrusion' against the UK and its allies in the US and Asia with the intention stealing intellectual property and others sensitive business data."
Taking a firm stance against China for its alleged cyber-attacks on American companies, the Trump Administration has also formally accuse China of engaging in state-sponsored hacking, a violation of a bilateral agreement signed by both countries in 2015.
"In reality, China isn't the only country using cyber as their weapon of choice. That's why cybersecurity is so critical; there needs to be an awareness that in addition to monetary gain, somebody might be stealing your data for political gain too. Protecting that data is just as critical, regardless of who's taking it," said Terry Ray, chief technology officer at Imperva.
"What's more, the trickle-down effect of nation-state hacking is particularly concerning, as sophisticated methods used by various governments eventually find their way into the hands of resourceful cyber-criminals, typically interested in attacking businesses and individuals."