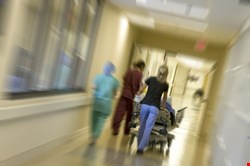 Examples of breaches resulting from employee negligence include: a filing cabinet full of medical records was found for sale at a garage sale; a hospital worker left medical files in the car which were later stolen; and a keychain with a dangling USB flash drive containing patient information was lost.
"Data breach risks are high, identity theft and medical identity theft are on the rise and patients' privacy is affected", said Larry Ponemon, chairman and founder of the Ponemon Institute.
ID Experts offered 10 tips for patients when their personal information has been compromised: get identity monitoring services, review all explanation of benefits, update accounts and passwords, be on alert for phishing emails, contact government agencies, monitor financial records, place an initial fraud alert or credit freeze with one of the credit bureaus, get copies of all three credit reports, accept credit monitoring services, and trust the healthcare organization is doing its best.
In November, ID Experts and the Ponemon Institute revealed that patient data breaches cost healthcare organizations nearly $6bn per year. The impact of a data breach over a two-year period was $2 million per organization, and the lifetime value of lost data on a patient was $107,580, they said.