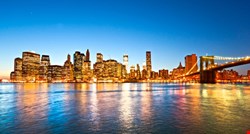 The FBI, the New York Police Department (NYPD) and the Metropolitan Transportation Authority (MTA) are taking on a new model in cybercrime fighting, with the establishment of the Financial Cyber Crimes Task Force. The task force will operate out of the FBI's field office in New York.
The task force will leverage resources from each agency to make the greatest impact, the organizations said in a statement. Those joining the FBI's Cyber Division as task force officers will have access to the Bureau's cyber investigations curriculum, composed of dozens of internally developed and industry-certified courses.
"The task force model that has been successfully employed in response to bank robbery and terrorism cases is now being applied to the cyber realm", said FBI assistant director George Venizelos, in a statement. The FBI continues to develop positive working relationships with our fellow law enforcement officers in our joint efforts to tackle criminal activity, and we look forward to working with our partners at the NYPD and MTA to combat cybercrime."
This New York-based task force is one of 45 that the FBI established in field offices nationwide as part of the Next Generation Cyber Initiative, which focuses on combating the growing threat of cybercrime.
"Cybercrime knows no geographical boundaries and expands the exposure to victims literally throughout the world," said NYPD police commissioner William Bratton. "This task force extends the reach of law enforcement to help identify, pursue, and prosecute those who commit cybercrime wherever they may be. The NYPD is proud to be part of this collaboration with local, federal, and international agencies, which will help combat this threat by using modern day technology."
MTA chairman Thomas Prendergast added, "We recognize cybercrime as an expanding threat. The establishment of this interagency task force enables us to better share information and harness the most effective resources of all of our law enforcement partners in order to combat, mitigate, and prosecute the activities of malicious hackers or anyone who would use digital tools to do harm to MTA customers."