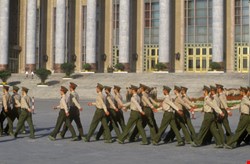 Some 98% of those addresses were Chinese and specifically Shanghai, while 97% of Remote Desktop sessions were of the keyboard layout setting "Chinese (Simplified) — US Keyboard."
Some 97.5% of APT1 personnel logged in on weekdays, China Standar Time (CST), 75% of connections occurred between 8am-noon or 2pm-6pm and 15% occurred between 7pm and 10pm, according to the data.
"The simplest conclusion based on these facts is that APT1 is operating in China, and most likely in Shanghai. Although one could attempt to explain every piece of evidence away, at some point the evidence starts to become overwhelming when it is all pointing in one direction," FireEye continued.
"Our timestamp data, derived from active RDP logins over a two year period, matches the Department of Justice's timestamp data, derived from a different source — active Dynamic DNS re-pointing over a five year period. These data sets show that APT1 is either operating in China during normal Chinese business hours or that APT1 is intentionally going to painstaking lengths to look like they are."
However, they had also made efforts to change "operational architecture" in a bid to "obscure their further data theft operations" – in effect, burrowing deeper to try and avoid detection.