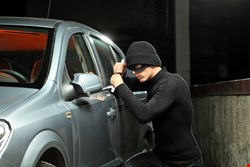 The torrent claims to be a leak of the latest iteration of GTA, made for the PC. Hallelujah, gamers rejoice. But those who try to install it will find themselves not virtually jacking cars and rising up the ranks of the criminal underworld in a sandbox urban paradise. Instead, they'll be racking up premium SMS charges and dealing with information-stealing malware.
Users that download the torrent are asked to complete a survey in order to receive a confirmation code to unlock the game, according to Bitdefender. But, that survey can only be completed by sending a text message to a specified number, which then proceeds to charge a daily fee of 1 Euro (about $1.30) until the service is manually cancelled.
Meanwhile, once the confirmation code is inputted, the software installs the Trojan.GenericKDV.1134859 malware, which sets up a backdoor door in the system so that hackers can trace user keystrokes and steal vital information like user name, password and credit card data.

As a consolation prize, it also installs a copy of the legitimate video game called the Cave, which is a popular adventure game involving dragons, underground volcanoes, giant hot dog machines and a fully armed ICBM. No carjackings though.
The trojan is easily wiped from systems with anti-virus software, and the premium SMS scam can be halted with a call to one's wireless service provider. The best course of action, however, is to follow the time-honored advice of not clicking on or downloading anything that one is not absolutely sure is legit.