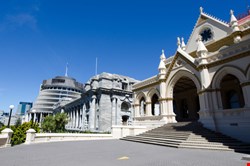 TICS is highly controversial. Prime Minister John Key says that the bill clarifies and controls the surveillance activities of the New Zealand spy agency, GCSB.
"This is not, and never will be, about wholesale spying on New Zealanders," he says. Key claims it is the end-point, not the start-point, for surveillance – to allow the security services to investigate actual cybercrime, not to engage in 'NSA-style' mass trawling.
Opponents claim otherwise. Rodney Harrison QC, speaking at a public meeting earlier this week, "said the Bill not only removes a prohibition on GCSB spying on New Zealanders, it also includes a definition of 'infrastructure' that embraces all forms of data systems, including content, and that it opens the door to broader use of surveillance by security agencies."
Kim Dotcom, still fighting extradition to the US, is clearly an interested party. After his Megaupload service was seized he started a new and more secure file storage and sharing service called Mega. It is currently hosted in New Zealand.
The run-up to the vote on TICS coincided with the voluntary closure of secure email services – Lavabit and Silent Mail – in the US. More recently, Pamela Jones closed down her much-respected Groklaw advice website. "You don't expect a stranger to read your private communications to a friend," she said in her last post. "And once you know they can, what is there to say? Constricted and distracted. That's it exactly. That's how I feel." All of these services have been closed because of US laws and the surveillance capabilities of the NSA.
Opponents to TICS fear that it creates a similar condition in New Zealand. "The #GCSB bill just passed in Parliament against the will of most Kiwis. RIP Privacy. Payback at the 2014 election!!!", tweeted Dotcom yesterday. But he clearly suspected it was coming. On 9 August he told his 314,000 Twitter followers, "#Mega plans to move privacy operations away from New Zealand to Iceland if the new #GCSB & #TICS spy laws are becoming reality."
At the same time, he announced a new encrypted email service: "#Mega encrypted services will put an end to mass surveillance. Where politicians fail us & laws won't protect us, innovation will save us. #Mega's open encrypted email service outside of #NSA reach will change the way people use email forever. You'll see. Coming 2014."
The biggest problem – apart from solving the long-standing difficulty in balancing secure encryption with sufficient ease-of-use – is whether the telecommunications infrastructure of a small island nation like Iceland could handle what might prove to be a world-wide mass migration to Mega's secure email services.