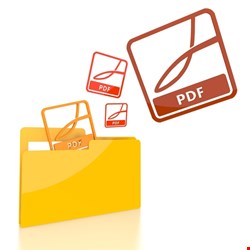 LockLizard's web viewer will enable users of its PDF DRM protected documents to view them in a browser rather than having to download and install device-specific software. This new browser-based solution will not require any additional downloads (i.e., plugins), and will not use JavaScript, self-extracting EXE files, or any other insecure technology to deliver protected PDF documents.
The browser solution will be an optional item that publishers can choose when allowing users access to their protected PDF documents. The company explained this is because their browser solution is a 'lite' DRM system, and while requiring no installation, offers less protection because no software is installed on the client and certain functionality cannot be controlled (such as prevention of screenshots). Although locking Viewer software to specific devices will no longer be possible (because no software is installed), publishers can still control where their documents are used by limiting access to specific IPs or ranges of IP addresses. In addition, because the user must always be online to use protected PDF files, user and document revocation can also be instantly performed.
LockLizard's web viewer will open up new opportunities for publishers by enabling them to support a wider range of client devices, such as Google Chromebook, which is becoming increasingly popular in organizations worldwide. It will also grant publishers of PDF files greater flexibility when distributing documents in tightly controlled environments where desktop installations are locked down. There are no firewall or proxy configuration issues to worry about because if the browser has access, so does the user.
Organizations can also use the system to create their own custom secure data rooms. Just like LockLizard's current PDF security systems, administrators secure PDF files locally on their computers. Protected PDF documents are then uploaded to the cloud for secure document distribution. This method ensures that unprotected versions of PDF files are never made available on remote servers and are therefore not open to compromise or attack.
LockLizard's web viewer will work with publishers' existing protected PDF documents (PDC files) and enforce document view watermarking, expiry, revocation and view limitation controls, along with document usage tracking. The system is compatible with the most popular browsers (IE, Firefox, Chrome, etc.), and a launch date is scheduled for May.