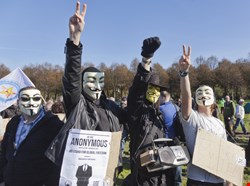 ManTech said that HBGary would become part of its new commercial business unit within its Mission, Cyber, and Intelligence Solutions group. HBGary provides software products to detect, analyze, and diagnose advanced persistent threats and targeted malware to clients in the financial services, energy, critical infrastructure, and technology sectors.
HBGary made news last year not for its products but for the claim by HBGary Federal chief executive Aaron Barr that the company had identified key members of Anonymous. Reports also suggested that Barr planned to sell the data to the FBI. The hacktivist group took offense and hacked HBGary Federal business, posting emails and tens of thousands of documents from the unit.
Infosecurity interviewed HBGary founder Greg Hoglund at the RSA Europe conference in October last year. The hack by Anonymous, he explained, was not a problem with the firm's technology, but human error, as Barr used the same password on several of his accounts, which Anonymous exploited.
HBGary's products analyze what is happening with an IT systems' memory and look for malicious behavior on the IT platform, Hoglund said. The technology is relatively unique in the marketplace, he added.