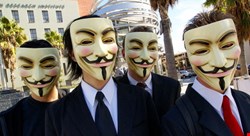 Anonymous affiliate AntiSec vowed to carry out the Friday attacks in its recent hack of the Federal Trade Commission (FTC) website.
"We are already sitting on dozens of unreleased targets….Yes, each and every Friday we will be launching attacks… with the specific purpose of wiping as many corrupt corporate and government systems off our internet", AntiSec was quoted by Wired's Threat Level as saying about the FTC hack.
The group said that it had taken down servers belonging to at least seven domains, including business.ftc.gov, consumer.gov, and consumer.ftc.gov. An FTC spokesperson confirmed with various media outlets that the FTC's website was hacked on Friday.
According to an AntiSec Pastebin post, the attack on the FTC site was in retaliation for the US government's support for Europe's Anti-Counterfeiting Agreement (ACTA).
"If ACTA is signed by all participating negotiating countries, you can rest assured that Antisec will bring a…mega-uber-awesome war that rain torrential hellfire down on all enemies of free speech, privacy and internet freedom. We will systematically knock all evil corporations and governments off of our internet", the post bragged.
In a follow-up story, Ars Technica said that security requirements contained in an initial solicitation to set up the FTC websites hacked by AntiSec were dropped from the final contract that was awarded to Fleishman-Hilliard in August 2011. Fleishman-Hilliard then subcontracted with Media Temple to place the servers on its umanaged server-in-the-cloud service that was not intended for .gov sites, according to the report.