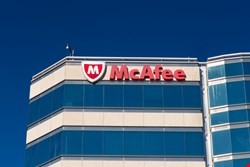 Outspoken anti-virus pioneer John McAfee has hit out at Google, Facebook and the host of privacy infringing applications dominating the modern age, and called on users to lobby their politicians to better protect digital freedoms.
Keynoting at the annual BSides event in Las Vegas this week, McAfee managed to cover everything from his long-running dispute with the Belizean government to yoga and smoking on live TV.
However, the topic he explored in most depth was the "tragedy" of firms like Google and Facebook knowing "virtually everything" about their users.
"How did this happen to us? It happened because we did not give a shit. It happened because we allowed a technology to run away with itself and because it made our lives easier and more convenient we did not care," argued McAfee.
"You have lost your privacy and you're losing more of it every day. With the loss of privacy you're losing your freedom, and without freedom is there humanity? Is there any humankind that is not free?"
There was also time for a not-so-subtle dig at Google executive chairman Eric Schmidt's famously dismissive response to privacy fears, "If you have something that you don't want anyone to know, maybe you shouldn't be doing it in the first place."
"Many would have us believe that if you have nothing to fear – if you're doing nothing wrong – why should you care about privacy?" said McAfee.
"The truth is this. Without privacy, can't there be freedom?"
McAfee went further, urging users to "stand up for themselves" and contact their Congressional representatives with the simple message: "I want my privacy back".
The founder of the eponymous AV company, now a part of chip giant Intel, has a vested interest in talking about such issues.
His new company, Future Tense Security Systems has produced a free software "awareness" product which allows users to understand what permissions they have given to their apps.
Another project, Chadder, is advertised as a private messaging platform.
The majority of McAfee's 40 minute keynote was devoted to audience questions.
In response to one he claimed the AV industry is dead.
"It's based on an algorithm which can't possibly keep up with the malicious workings of human beings today," he argued.
"I think we've got to start taking responsibility ourselves for the things we are doing. If we're not willing to sacrifice a little bit of our convenience to not use apps that we have to have because they provide a direct link through which God-knows-what can come in, then there's nothing technology can do to help us."