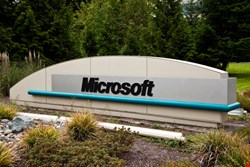 Microsoft announced Wednesday that it is launching Office 365 for Government, a multi-tenant service that stores US government data in a segregated community cloud. The service includes such Office 365 products as Exchange Online, Lync Online, SharePoint Online, and Office Professional Plus.
Office 365 for Government complies with Federal Information Security Management Act (FISMA) and Health Insurance Portability and Accountability Act (HIPAA) requirements. Microsoft said it plans to support IPv6 by September, the US government deadline for federal agencies to support IPv6, and to support the FBI's Criminal Justice Information Services (CJIS) security rules for cloud computing.
Microsoft and Google have been competing intensely for US government cloud business. The two firms engaged in a testy exchange last year over whether Google Apps for Government was certified under FISMA.
In April last year, Microsoft released court documents that contained a finding by the Department of Justice that Google Apps for Government did not have FISMA certification. However, Google countered with a finding by the General Services Administration (GSA), which handles third-party contracting for the US government, that Google Apps for Government fit into the broader FISMA certification for the Google Apps Premier Edition suite of products.