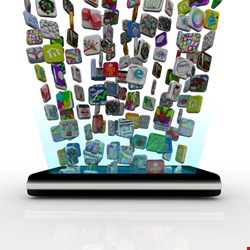 The Android smartphone took the brunt of the malware infections, according to the McAfee report.
Mobile malware fueled an increase in malware overall, despite a slowdown in PC-based malware in the fourth quarter. The total number of unique malware samples exceeded McAfee's estimate of 75 million, the report noted.
In the fourth quarter, rootkits, fake anti-virus software, AutoRun, and password-stealing Trojan malware all declined, while Mac OS malware remained at a very low level, McAfee said.
The number of new bad websites shot up to 9,300 sites per day in the fourth quarter, from 6,500 per day in the previous quarter. Around one in every 400 URLs were malicious on average, and at their highest levels, approximately one in every 200 URLs were malicious. This brings the total of active malicious URLs to more than 700,000, the security firm found.
In the fourth quarter, global spam reached its lowest point in years, especially in the the UK, Brazil, Argentina, and South Korea.
The leading network threat this quarter came from vulnerabilities in Microsoft Windows remote procedure calls. This was followed closely by SQL injection and cross-site scripting attacks. These remote attacks can be launched at selected targets around the globe, McAfee warned.