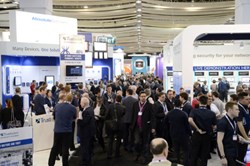 Although hosted in London, UK, numerous visitors came from overseas – in fact from 110 different countries, with some visitors coming from as far as South Korea, Australia, Singapore, Turkey and Hong Kong.
Exhibitors were also more international than ever, including an enlarged French pavilion and brand new Russian and German pavilions. In all, more than 350 companies used the exhibition to showcase their security products and services.
Claire Sellick, the Reed Exhibitions director responsible for Infosecurity Europe 2013, is "delighted with the results from the event." More visitors, more exhibitors, increasing internationalization, "as well as an increase in the seniority of end users from the enterprise and SME community." That last, of course, demonstrates an increasing recognition of the importance of security within business.
There was also a significant increase in the number of visitors revisiting the show on multiple days. This is thought to be because of 'the impressive and thought-provoking education programme' included within the conference, which included 31 sessions in the Business Strategy Theatre, 31 sessions in the Technical Theatre, 14 in the Information Security Exchange, 17 IT security workshops and 24 seminars in the Technology Showcase Theatre.
One presentation was delivered by Chloe Smith, the UK's minister for political and constitutional reform with responsibility for cyber security, who delivered a keynote speech describing the government's determination to keep the UK safe from cybercrime.
Two of Infosecurity magazine's very own also led keynote discussions at this year's Infosecurity Europe. Deputy editor, Drew Amorosi, sat down with David Smith, the UK's Deputy Information Commissioner, for a live interview during one keynote session. Smith warned that the EU risks going down a path toward checkbox privacy compliance, as the EU's proposed data protection regulation will remove much of European countries' national discretion when it comes to drafting data protection laws.
Editor Eleanor Dallaway also led a keynote panel at this year's conference that focused on cybercrime and included representatives from the UK Minstry of Defense, the FBI, and London's Metropolitan Police. The panel concluded that while attack techniques have not changed dramatically over the last two decades, criminals continue to shift their activities to the internet, which is seen as a relatively safer environment.
Infosecurity Europe 2014 will run from the 29th April – 1st May 2014, at Earls Court, London.