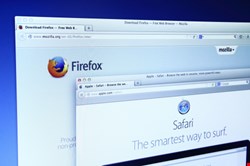 As user awareness of cybersecurity issues continues to grow, security features have become an important weapon in the browser wars. In the latest salvo, Mozilla said that the next version of its Firefox web browser will incorporate an updated malware-blocking service that casts a wider net than what it has now. In fact, Mozilla estimates that a signature-verification element will cut the amount of malware that slips through Firefox's protections in half.
Firefox uses Google's Safe Browsing phishing and malware protection to help prevent surfers from accidentally visiting dangerous sites; it works by checking the sites visited against lists that Firefox downloads of reported phishing and malware sites. It also monitors malicious downloaded files, to block them from infecting a user's system.
The next version of Firefox (released in September) will verify the signatures for application downloads. If it is signed, Firefox then compares the signature with a list of known safe publishers. For files that are not identified by the lists as "safe" (allowed) or as "malware" (blocked), Firefox asks Google's Safe Browsing service if the software is safe by sending it some of the download's metadata.
The online check will only be performed in Firefox on Windows for those downloaded files that don't have a known good publisher.
"And of course if you don't want to send Google data about the few downloads that don't match these lists, you can turn off malware protection," said Sid Stamm, senior manager of security and privacy engineering at Mozilla, in a blog. "But we believe eradicating malware is critical for most people, and expect this new feature to help work behind the scenes to keep you safe as you browse."

Browsers are increasingly looking to help prevent malicious downloads. Last fall Google implemented automatic blocking of malware downloads for the Chrome browser. Any malware Google detects is now flagged and blocked. Users see a notification message in the download tray at the bottom of their screen, at which point they can click "Dismiss" to clear the alert.