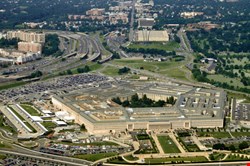 Gen. Keith Alexander, head of the US Cyber Command and the National Security Agency, told the House Armed Services Committee's subcommittee on emerging threats that his command is working with the DoD leadership and the White House on "rules of engagement and criteria upon which Cyber Command will act."
"We are working with the Joint Staff to develop a decision framework that allows us to identify threats and ensure senior leaders can share information rapidly and take action, if necessary", he said.
This was a theme reiterated by Madelyn Creedon, assistant secretary of defense for global strategic affairs. She said the DoD is conducting a "thorough review" of its rules of engagement for cyberspace.
"We are also working closely with the Joint Staff on the implementation of a transitional command and control model for cyberspace operations. This interim framework will standardize existing organizational structures and command relationships across the department to provide the full spectrum of cyberspace capabilities in response to the requirements of the president", she told lawmakers.
"The Joint Staff is also in the process of developing a Joint Publication for Cyberspace Operations. Although cyberspace operational doctrine already exists in various current publications, this will be the department's first joint publication focused solely on cyberspace operations", she added. The publication will provide operational detail on how the Pentagon plans to carry out its Strategy for Operating in Cyberspace, which was released last July.