After a May 21, 2019, cyber-attack downed Philadelphia's online court system for e-filing and docketing services, issues remain throughout the county, according to Government Technology.
On June 11, Government Technology reported that the computer networks of the Luzerne County Correctional Facility in Pennsylvania continue to be impacted, leaving inmates unable to order items from the jail commissary.
"The First Judicial District and City OIT are working in concert to ensure the safety of the First Judicial District's electronic web system following the discovery of malware on a limited number of FJD workstations. As a precautionary measure the FJD's website, employee email accounts, and electronic filing (e-file) have been temporarily suspended," a May 31 notice from the The Philadelphia Courts First Judicial District of Pennsylvania stated.
"We are currently unable to provide more information concerning this virus so as not to provide any detail-specific information that could jeopardize the remediation process we are engaged in. In addition to City OIT, the FJD is contracting the services of a firm specializing in cybersecurity to assist in getting impacted operations restored safely."
Since then, the courts have been using social media to engage with members of the community. On June 10, the Philadelphia courts expressed appreciation for the community's patience as employees work to meet filing needs.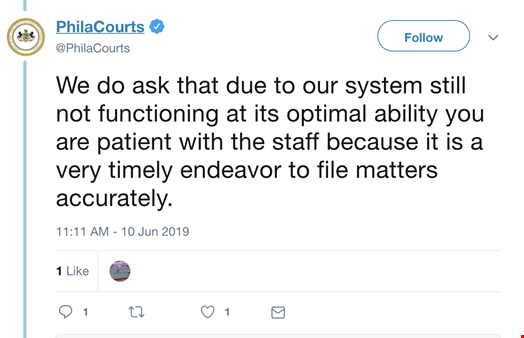 The city has reportedly hired a cybersecurity firm to investigate the attack, though said firm has not been named.
"Declining to name a publicly funded contractor has raised eyebrows. So far, the court has described the unnamed vendor as a firm 'specializing in cyber security to assist in getting impacted operations restored safely.' Courts spokesperson Marty O'Rourke has declined repeated requests for the name of the vendor – as well as the amount the city is paying for these services," Billy Penn's Max Marin reported.