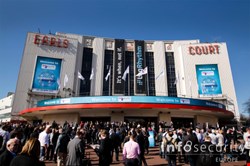 Cole, an internationally recognized security expert, will be officially inducted into the Infosecurity Europe Hall of Fame on May 1, 2014, during a keynote session at this year's event in Earl's Court, London. He will be joined by Infosecurity magazine's Drew Amorosi, as the two will kick off the keynote schedule at 10:00 AM on the last day of Europe's largest conference and exhibition dedicated to the information security industry.
On the agenda for the interview will be Cole's life and career, and his views on the current state of the information security industry and the evolving cybersecurity threat landscape. Cole also plans to discuss how to implement effective security within an organization, which he says is the most frequent question that he receives from clients.
A SANS Institute fellow and instructor, Cole is a widely renowned expert in the field of information security. In addition to his duties with SANS, he is the founder and chief scientist for Secure Anchor Consulting. Cole has authored numerous books on cybersecurity, is the holder of more than 20 patents, and is a member of President Obama's Commission on Cyber Security.
Previously, Cole served as CTO for McAfee, and chief scientist at Lockheed Martin. He also holds a master's in computer science from NYIT, and a PhD from Pace University.
Cole will join the ranks of previous Infosecurity Europe Hall of Fame inductees, including Mikko Hypponen of F-Secure, Shlomo Kramer of Imperva, and Prof Fred Piper of Royal Holloway, University of London, Eugene Kaspersky, and Bruce Schneier. Since first handing out the honor in 2008, Infosecurity Europe has inducted 25 members into its Hall of Fame.