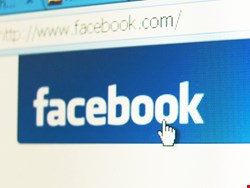 Images advertising the new 'Facebook Black' are appearing in Facebook users' news feeds. "Get the new Facebook Black – click the link above for info," one image says. "Messages and images inviting users to change the color of their Facebook pages from the traditional blue have been appearing in rising numbers over the last few days, enticing users to click on a link to a third-party website," writes Graham Cluley in the Sophos NakedSecurity blog.
But it's a ruse, he warns. He tested one of the links which took him to a Change Your Facebook Color page, announcing "Now you can change your facebook color to anything that you want." The text even includes the obligatory scammers' typo: "Are you sick fo that boring old blue theme?"
Cluley clicked the 'Change Your Color' button, but "Before I knew it, I was told I had to take part in an online survey (which earns affiliate cash for the scammers) before I would be given the opportunity to turn my Facebook profile black." Survey scams are common on the internet and social networks. The scammers earn money by sending people to the survey page. Cluley doesn't say what happens if you go further and agree to complete the survey, but such scams are traditionally used to collect personal information for future spamming, or to seek to infect the user with some malware or dubious app.
Cluley must have experienced a feeling of deja vu. Back in January he discussed a similar scam – offering to turn Facebook pink (or red or black). At that time he commented, "That's not to say, of course, that it's impossible to turn your Facebook pink, red or black if you really want to. For instance, there are number of GreaseMonkey scripts which will work alongside the Firefox web browser to customise the look of Facebook – just as the look of eBay or GMail can be similarly changed on the fly if you choose."
But his final advice is consistent: "make sure that your hunger for a pink-themed [or red or black or whatever] Facebook doesn't lead you into a scheme designed purely to earn money for scammers."