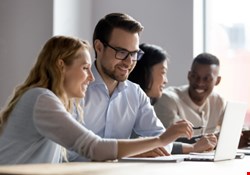 In 1971, Bob Thomas unknowingly changed the course of history by developing 'Creeper,' an innocuous program with unforeseeable implications. This marked the birth of cybersecurity, a field that has since evolved alongside technology to become a critical component of modern life.
As the 1980s rolled around, high-profile computer attacks at institutions such as National CSS, AT&T and Los Alamos National Laboratory brought the looming threat of cyber espionage during the Cold War to the forefront. As a result, terms such as "computer virus" and "Trojan Horse" were coined, and the public's perception of hackers shifted from hero to villain.
Throughout the late 1980s and into the early 2000s, "hack" was a derogatory term associated with rogue actors operating outside the law. The only acceptable career paths were those of Certified Information Systems Security Professional (CISSP), and neither government agencies nor banks hired hackers due to the negative perception.
However, in 2003, EC-Council became the front runners by introducing the unique concept of "beating a hacker by thinking like a hacker" and launched the Certified Ethical Hacker certification. This concept opened the doors for ethical hackers and gradually, the perception of hackers began to change. In 2010, ethical hacking became mainstream when the Pentagon recognized EC-Council's CEH certification within directive 8570 and got workers trained and certified under CEH to hack defense computers.
The Changing Landscape of Cybersecurity Careers
Today, as technology is advancing, from the mainframe era to the Internet of Things (IoT) and now edge computing, cybersecurity is becoming a specialization. The role of hackers is evolving too, with their expertise now sought after by companies looking to secure their digital assets. And since CEH has changed the entire narrative, it is now considered a skill. Cybersecurity is no longer an afterthought but an essential part of modern life, and the role of the hacker has transformed from villain to hero. Today seven out of 10 Fortune 100 companies all list ethical hacking.
As the industry continues to advance, so do the skillsets required by professionals to be effective in their roles. According to the Bureau of Labor Statistics, cybersecurity opportunities are expected to grow by 31% between 2019 and 2029, much faster than the average for all occupations.
The future of cybersecurity looks bright and promising, with zero unemployment and an increasing representation of women in the workforce. Cybersecurity Ventures reported that the unemployment rate for cybersecurity professionals dropped to 0% in 2016 and has remained there ever since. It is also predicted that by 2025, women will make up 30% of the worldwide cybersecurity workforce, and by 2031, that percentage will rise to 35%.
So, if you have a passion for technology and a desire to make a real impact on the world, a career in cybersecurity could be just what you're looking for. To maintain a competitive edge in cybersecurity, it is worthwhile to invest in continuing education and professional development programs, which can expand one's skill set and stay abreast of emerging trends.
Skills and Qualifications
As the cybersecurity industry evolves in response to emerging trends, professionals must develop new skills and strategies to keep pace. To succeed in a cybersecurity career, individuals need to possess a range of technical skills, and the availability of certifications, including Certified Ethical Hacker (C|EH), CISSP and CISA, to name a few, have proven to be beneficial.
It is also very important to build a strong foundation in fundamental skills. This includes knowledge of security principles, threat modeling, operating systems, programming languages, etc. Additionally, acquiring practical experience is essential to preparing for a cybersecurity career. Whether through internships, volunteer work, personal projects, or being part of virtual environments like EC-Council's iLabs cyber range, which provides a simulated ecosystem for users to practice and enhance their skills in a safe and controlled setting.
Looking Ahead
Emerging trends in the cybersecurity industry include a greater emphasis on artificial intelligence and machine learning, as well as increased use of automation and orchestration tools. These trends will impact the future of cybersecurity careers, making it essential for professionals to stay informed and up-to-date on the latest developments. By staying ahead of the curve and continuously learning and adapting, cybersecurity professionals can help ensure the safety and security of our increasingly connected world.
The cybersecurity industry is rapidly growing and demands a skilled workforce to combat the rising threats. To succeed in this field, professionals must possess a range of technical and soft skills, a commitment to ongoing education and training, and the ability to adapt and evolve with the industry's changing landscape.