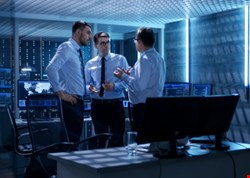 A recent poll found that roughly half of executives expect their organization's financial systems to be targeted by a cyber-attack. With threat actors constantly evolving their tactics and looking for new ways to exploit vulnerabilities, there's no such thing as 100% protection from cyber threats. For cybersecurity investments to make a dent, the focus must shift from being perfect to staying proactive. Here are four steps you can take to improve your organization's cyber resilience.
1. Test Your Defenses
When assessing your organization's cybersecurity preparedness, it can be overwhelming to figure out where to start. A survey from Ponemon found that 47% of organizations have not assessed the readiness of their incident response teams. Rather than taking on one issue at a time, which isn't sustainable, organizations must adopt a multi-prong approach that reduces their attack surface and strengthens cyber defenses. This means leveraging proactive measures and services to reduce the likelihood of a cybersecurity breach and limit the damage when it does occur. Cyber-criminals are constantly testing your defenses, so you need to as well.
These proactive measures can include the following:
2. Test Your Incident Response Team
Having an incident response and digital forensics team to help manage and implement your company's cybersecurity strategy is invaluable. This team will do the following:
Contain: Isolate the affected systems to prevent the incident from spreading
Investigate: Determine the scope of the incident and identify its cause
Respond: Restore systems, recover data and implement additional security measures
Report: Disclose the incident to the appropriate authorities, such as law enforcement and regulatory agencies
Assessing where your incident response (IR) team stands in terms of its capabilities is critical. This helps identify gaps or weaknesses while improving its response and overall readiness.
The assessment should include key areas, such as:
Incident detection and identification
Containment and eradication
Recovery and restoration
Post-incident analysis and reporting
Breaches at organizations with incident response teams that regularly test their plan saw $2.66m in savings compared to breaches at organizations with no IR team or testing of the IR plan.
3. Obtain Cyber Insurance
While cybersecurity is often considered a proactive measure, cyber insurance is erroneously regarded as reactive. Cyber insurance does help a company recover from an incident, but obtaining it in the first place is actually a major proactive measure. If an organization is the victim of a cyber-attack, having cyber insurance already in place provides the financial resources to ensure that your company can cover the cost of legal fees, data recovery and other breach-related expenses. In addition to the financial element, cyber insurance can connect policyholders with service providers who will guide them through the incident and recovery process.
4. Secure Your Environment
Knowing that your organization is prepared for a cyber incident makes the difference between getting sleep and staying up all night worrying about the 'what-ifs.' With the right plan in place, you can take immediate action, prevent future loss and quickly recover critical data.