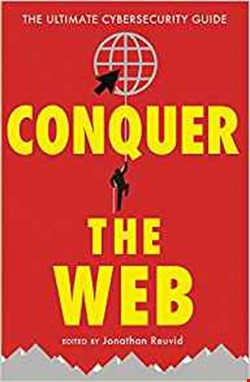 Conquer The Web - The Ultimate Cybersecurity Guide is a collection of best practices, example scenarios and practical advice authored by Tim Mitchell, Get Safe Online, Maureen Kendal, CyberCare, and Nick Ioannou, Boolean Logical. Each author's ideas are brought together and carefully edited by Jonathon Reuvid.
Conquer the Web begins with an introduction By Nick Wilding, Axelos. The introduction sets the scene with a fictional character experiencing an all too real scenario that anyone or any organisation could experience when using the Internet.
Wilding moves on to demonstrate key facts presented by the National Cyber Crime Centre, where there is a one in two chance that you will experience a cyber breach as a business, which truly sets up the need for the book.
The introduction ends with Wilding reminding the reader that they don't need to be a technical wizard or have huge financial resources in order to implement the simple practical steps presented by Mitchell, Kendal and Ioannou in subsequent chapters.
Part One of the book, aptly named Day to Day Living In The Cyber World, is written by Tim Mitchell, Content Director of Get Safe Online. Mitchel first starts by presenting the reader with the real threats that an Internet User can face and how they can occur, before moving on to presenting appropriate security controls for each of the threats faced.
Throughout this Mitchell presents key arguments against a particular control as a question before answering them with well-reasoned facts to show the reader why the argument is incorrect.
Part Two: Individual, Families & Communities is written by Maureen Kendal, who provides several challenges that an Internet user must overcome before they can conquer the web. This is followed up with helping the reader understand that education is a must, should they wish to overcome the challenges presented to them at the start of Part Two. Kendal then moves on to discuss how the reader can help protect their own family and household when online, include controls they can use to protect their home network.
Part Three: The Risks Of The Digital Age is written by Nick Ioannou, Founder of Boolean Logical presents the reader with some of the risks that the internet can bring ranging from Data Collection to Phishing. With each risk Ioannou provides appropriate advice that is easy to follow and put into practice.
Part Four: Cyber Security Advice by Cyber Aware points the reader to helpful online resources that cover the topics explored by the authors of Conquer The Web and can be used to supplement their advice.
Conquer The Web ends with a summary from Jonathon Reuvid that reflects on Wilding's introduction, further stressing that you don't need to be technically-adept to follow the advice that Mitchell, Kendal and Ioannou have provided.
Overall, Conquer The Web - The Ultimate Cybersecurity Guide provides excellent advice throughout its chapters that anyone can follow and easily put into place.