Personal Storage Table (PST) is an Outlook database file that stores mail items, such as messages, contacts, attachments, notes, tasks, etc. These mail items also include important business information and data that you can't risk losing. However, PST file corruption is often inevitable as it can occur due to multiple reasons.
Microsoft is also aware of the fact that PST files are prone to corruption and hence, provides a free Outlook PST recovery tool called SCANPST.exe (also known as Inbox Repair Tool) with all versions of Outlook.
In this article, we have discussed the steps to repair and recover data from corrupt Outlook PST files using SCANPST and a third-party Outlook PST repair software.
Repair and Recover Data from Corrupt PST using Inbox Repair Tool
SCANPST.exe or Inbox Repair Tool is located in the Microsoft Office installation directory. The tool is automatically installed with all English-language MS Outlook installations based on the operating system. Microsoft provides this free software to repair damaged or corrupt Outlook data files and resolve problems associated with personal folder files (.pst).
How Inbox Repair Tool Works
This Outlook PST file repair software checks the header and errors in the internal structure of the PST file, such as BTree and reference counts. If the tool detects an unreadable or corrupt block/table in the PST database file, it removes it. It also examines every mail folder in the PST file and corrects tables associated with the folder and subfolders. If a message or subfolder isn't found, it is removed from the PST. If a message or subfolder is found, it is validated. If validation fails, it is marked as corrupt and removed from the PST.
To use the Inbox Repair tool for repairing corrupt PST files, follow these steps:
Open File Explorer and navigate to one of the following locations to find SCANPST.exe.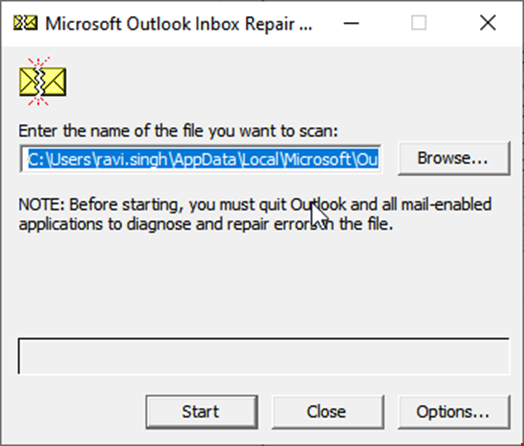 Find and launch SCANPST.EXE.
Click Browse to choose the corrupt PST file and click Start. It starts scanning the corrupt PST file and checks its internal structure, tables, blocks, messages, folders, etc. The time for scan varies based on the PST file size and level of damage.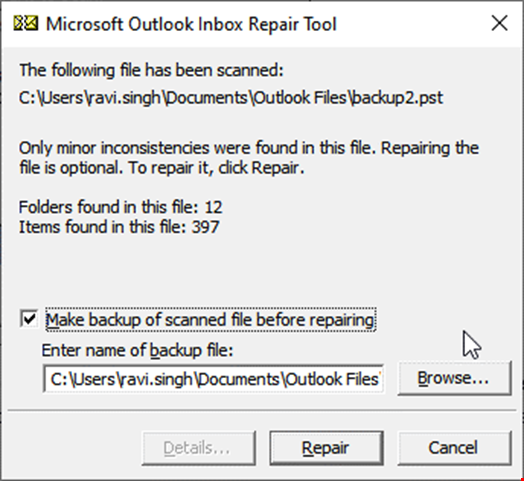 After the scan, enable the 'Make a backup of scanned file before repairing' option and then click 'Repair.' The tool will first create a backup of your original PST file with the .bak extension at the same location and then start fixing the PST file.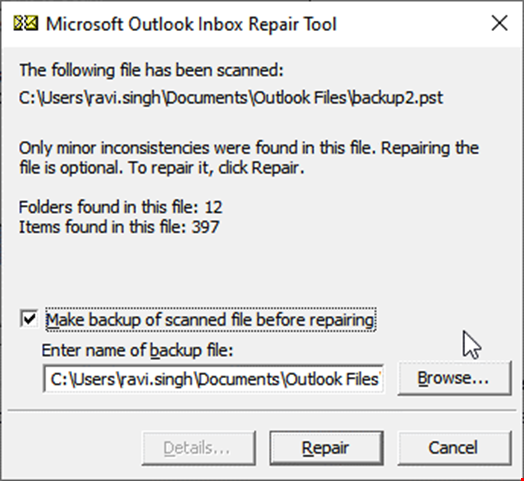 Once the repair process is finished, you can open Outlook and access all the emails and mail items like before.
While the tool can help repair inconsistencies and errors in a PST file and restore access to the mail items, it has a few notable limitations that you must consider before using it.
SCANPST is recommended to repair PST files up to 2 GB. While you may use it to fix corruption in larger PST files, it may fail or crash and cause more damage to the PST.
Although the tool can fix corrupt or inaccessible PST files, it may remove the unreadable messages, subfolders, blocks, or tables that may contain your important mail items. This can lead to data loss.
The tool can fix only minor inconsistencies and errors in the PST. When PST is severely damaged, it may fail, stop responding, or crash.
If the tool fails to fix PST file corruption or fixes the PST by removing your important emails, consider using a reliable third-party Outlook PST recovery software.
Use Advanced Outlook PST Recovery Software
To overcome the limitations of SCANPST and repair large or oversized corrupt PST files with complete integrity, you can use Stellar Repair for Outlook. It is an advanced Outlook repair software to repair PST files and recover mail items from inaccessible, corrupt, or encrypted PST files of any size (50 GB or more) with original folder structure and integrity.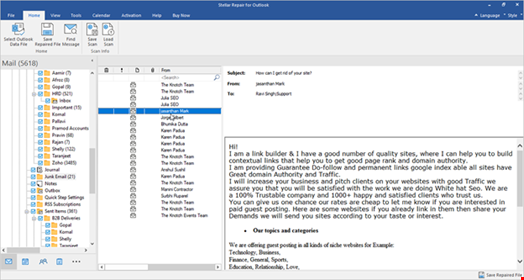 Unlike SCANPST, the tool allows you to preview and verify all mail items and their content before saving them to a new healthy PST file at your desired location.
Once saved, you can open or import the PST file into any Outlook client to access and view the messages and other mail items. In addition, the software also lets you directly export the repaired PST to an Office 365 or live Exchange Server mailbox.
Conclusion
In this article, we discussed the Outlook built-in SCANPST and a third-party Outlook PST recovery software, and how to use them safely to recover corrupt or damaged PST files. We recommend that you use SCANPST (Inbox Repair Tool) every once in a while to avoid PST corruption and ensure consistent Outlook performance. Use the Outlook PST recovery software (SCANPST) to repair small PST files with minor inconsistencies and download the advanced Outlook recovery tool for severely damaged or corrupt PSTs.