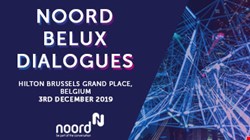 For the last nine years Noord has delivered private, leader-level, highly interactive events for the IT industry across the UK and EU. Now, with more businesses embracing IT as an enabler, the industry is thriving in Belgium. New solutions including IoT, big data and AI are leading the way for accelerated business innovation. Due to the demand for greater industry collaboration, Noord will be hosting the InfoSec BeLux and the IT & Digital Leaders Dialogues on 3rd December 2019 in Brussels.
These dialogues have been researched and developed for InfoSec and IT leaders in Belgium and Luxembourg. By invitation-only, this premium one-day intensive event hosts modern experts and thought leaders all coming to together with the sole purpose of understanding and being prepared for a common adversary.
The programme delivers interactive case studies, workshops and one-to-one meetings allowing you to head back to the office with actionable insights to not only develop your strategy but put it into practice.