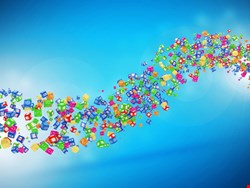 The term madware refers to apps that use aggressive ad libraries – of which there are a lot. According to Symantec's latest report on the subject, there are at least 65 known ad libraries out there, and over 50% of them are classified as aggressive libraries.
Ad libraries have the ability to collect information about the app's user in order to serve targeted advertisements. However, that can be abused. Depending on which ad library features the developer chooses to use, personal data can be leaked through an ad library. Additionally, an ad library can exhibit annoying behaviors such as displaying ads in the notification bar, creating ad icons or changing Web browser bookmarks.
The percentage of apps containing aggressive ad libraries on Google Play has increased each year. In 2012, 15% of apps seen on Google Play included madware, while in 2013, up to the end of June, 23.8% of apps contain madware.
The presence of madware in each app category varies on Google Play and on third-party app stores, as certain categories contain more than others. Apps from the Personalization and Libraries & Demos categories contain the most madware.
Most third-party app stores host more security risks than Google Play does. However, the level of security risks on 11% of known third-party app stores is lower than on Google Play.
"We see a constant growth in the presence of security risks among Android applications, be it malware or madware," said Symantec in its report. "There was a large increase in the number of malicious APKs in the middle of 2012 and again in the second quarter of 2013. The presence of madware on Google Play has grown from 2011 to 2012 and again in the first half of 2013, while the vast majority of third-party app stores host an even greater presence of madware and malware. By the end of this year, we can expect one in four free apps available on Google Play to contain madware."