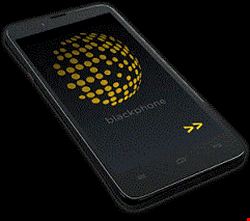 Blackphone runs an Android derivative operating system called PrivateOS, running all standard Android apps, but allowing users full control over the permissions they grant. It is supplied 'unlocked,' and any future updates or patches will come direct from Blackphone and not be delayed by carriers needing to approve and deploy them (as is currently the case with standard Android phones).
The price, set at $629, seems a little steep; but comes with a two-year subscription to Silent Circle's application suite, 1GB/month private browsing via Disconnect and 5GB/month of secure file sharing and backup via SpiderOak. Since the Silent Circle apps communicate securely only with other Silent Circle users, three 1 year 'friends and family' free subscriptions are also provided. In total, an additional $879 of free services are provided with the phone; although the services will need to be renewed at the end of the subscription.
The 'friends and family' subscriptions ensure that new Blackphone users can communicate securely with at least three non-Blackphone users; and gives those users a year to buy their own Blackphone.
Where Blackphone really differs from other 'secure' smartphones is that the makers own the entire platform – both the hardware and the software. One Blackphone communicating with another Blackphone, both running Silent Circle, can provide genuine end-to-end encryption. Nothing is stored on central servers. If Blackphone's servers are seized, nothing will be found. If the communications are intercepted, the encryption would need to be broken with no access to the keys.
This doesn't mean that Blackphones are NSA-proof – indeed the company stresses that nothing can be guaranteed to be NSA-proof – but it does make the cost of surveillance much greater. The more people who use this or similarly secured phones, the greater the cost of that surveillance.
The Blackphone will immediately appeal to niche markets where privacy and confidentiality is particularly important: legal and financial for example. The company is clearly hoping, however, that it will also appeal to the mass general consumer market. "I have spent my whole career working to uphold the objectives of privacy," said Phil Zimmermann, co-founder of Silent Circle and author of PGP. "Now that the mobile technologies are mature enough, we couldn't be more proud of the launch of Blackphone, the first mainstream, fully-integrated secure communications phone, designed for anyone to use as easily as the legacy phones they're used to already."
It all depends on how greatly people value their privacy. Blackphone thinks it is worth at least $629.