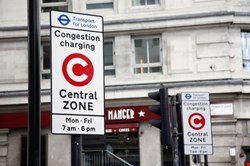 "We want London to be the safest big city in the world. One way we can do this is to use the best available technology to help cut crime and bring more offenders to justice," says a notice on the Greater London Authority website. It points out that that if the police are given use of the TfL cameras, it would triple their current level of coverage.
"Over the past twelve months we have been testing this approach. We now have robust evidence that giving the Met Police access to TfL's cameras would help prevent crime and improve detection rates. We have also gathered strong public support for this proposal."
The police already have access to the TfL cameras under the aegis of the Regulation of Investigatory Powers Act (RIPA). This new access must therefore provide more – and it almost certainly means that the police will be given live feeds from the TfL congestion charge cameras.
Indeed, an associated privacy impact assessment document produced by the Metropolitan Police makes this clear. The purpose of the project is to broaden the police access from national security (that is, RIPA) "to include the prevention and detection of crime and the apprehension or prosecution of offenders... The data comprises a continuous feed..."
Furthermore, the Met also makes clear that it will store the data for later mining. "In particular cases an ANPR read or series of reads from either local road or arterial road cameras may provide useful information about a particular crime and the linkage of a particular vehicle to it. Over time an accumulation of ANPR reads will reveal potentially important information around lifestyle patterns that may be of use in developing intelligence. In each case the value of ANPR data increases when more detailed information is available, and conversely a thinly spread camera network renders ANPR less useful as an investigative tool."
The document also describes the principles governing its use of ANPR. It describes six principles: necessity, to prevent crime and disorder; legality, in accordance with the Data Protection and Human Rights acts; proportionality, to protect individuals and their communities; protection, by regulating the people who can hold or access sensitive data; transparency, so that people can easily access and complain about data held; and scrutiny, to ensure democratic oversight.
The London authority notice says, "What do you think about these proposals? Please let us know by taking this survey by 8 April." The Met privacy impact assessment says, "The PIA will be informed by public views on the use of this ANPR data, collected over an eight week period from February to April 2014." This is almost certainly a done-deal between Transport for London and the Metropolitan Police. Infosecurity has asked the Information Commissioner for his views on the expansion of purpose in the collection and retention of vehicle registration numbers for purposes beyond the initial congestion charging. We will update this story with any response we receive.
Update
A spokesman from the ICO pointed out that there is an exemption under the Data Protection Act that relates to processing being undertaken for the purpose of preventing or detecting crime. The ICO told Infosecurity, "We have advised Transport for London and the Metropolitan Police on how these changes must comply with the Data Protection Act. This includes making sure the information is stored securely and that it is only accessible to those who need to access it."