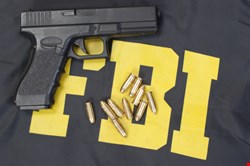 "Defendant Evens," reads the indictment, "would gain unauthorized access to the e-mail accounts of hundreds of victims (the 'victims' accounts') by various means, including 'hacking' into the victims' accounts, and obtain information, including nude pictures, belonging to the victims and stored on the victims' accounts."
"Defendant Moore..." it continues, "would offer defendant Evens additional money to obtain unlawfully additional nude pictures, and would post the victims' nude pictures on his website, http://isanyoneup.com, without the victims' authorization."
Moore's website was a leading example of what has become known as 'revenge porn.' It specialized in the publication of intimate photographs of ex-partners following a break-up; but without the subjects' authorization. In 2012 it was purchased by the anti-bullying website Bullyville.com founder James McGibney – and shut down.
Moore was interviewed by the BBC at the time. "I'm just a businessman," he said. "I just monetise people's mistakes that they made and it's kind of a shady business. But if it wasn't me, somebody else was going to do it. All I did was really perfected the way to monetise people's naked pictures."
The effect on victims can be dramatic. Holly Jacobs (who subsequently founded endrevengeporn.org) described her own experience: "Back in 2009... after I broke up with him... He started posting explicit pictures and a video of me all over the Internet along with my full name, email address, job title, and specific details of where I worked and how far along I was in my PhD program. For 3 years damage control was a full-time job. I hired a lawyer to send him a letter. I begged and pleaded with 3 different police stations to file charges against him. I went to the FBI, and I hired an Internet specialist to help me take down the material. Ultimately, those avenues were dead ends."
While the authorities have great sympathy for victims of revenge porn, they have been hampered by constitutionally protected free expression in the US, and section 230 of the Communications Decency Act (which gives site operators an escape clause for user-submitted content). Neither of these, however, are a defense against hacking.
Last month Kevin Bollaert, who operated the site called ugotposted.com, was similarly arrested. The arrest warrant describes the experience of 'Jane Doe #6:' "an unknown person illegally accessed her email account, located nude images of that she saved, and stole the images... she may have been a minor in the images and UGOTPOSTED published the images without her knowledge or permission."
End Revenge Porn is unsurprisingly delighted with the arrest of Moore. "Law enforcement finally decides to take action against those who make a living destroying lives," it tweeted yesterday.