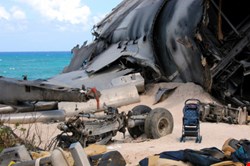 As well as Lost, similar attack vectors are being used when internet users search for copies of Iron Man 2 and The Family Guy, the dysfunctional family comedy cartoon series.
The final episode of Lost, however, is being used to install the MySecurityEngine fake anti-virus
According to Oliaz, a security researcher with PandaLabs, there is nothing new about the way the fake anti-virus infection operates. When someone searches for information relating to this series on the internet – such as news on the final episode or how to view it through streaming – fake web pages appear that have been expertly indexed to appear in the leading positions among the search results.
"If users click these links, they will be prompted to accept the download of a file, such as a codec, and the fake anti-virus will be installed on the computers", he said in his security blog last night.
Luis Corrons, PandaLabs' technical director, said: "What continues to surprise us is the speed with which the numerous websites are created and then indexed and positioned on the internet. As the screening of the final episode of Lost approaches we expect the number of malicious links to double or triple."
"With this in mind, we recommend users – particularly fans of the series – to be wary when visiting websites through search engines, and try to make sure the pages they visit are reliable. If users should be directed to fake websites, it is essential not to accept any downloads", he added.