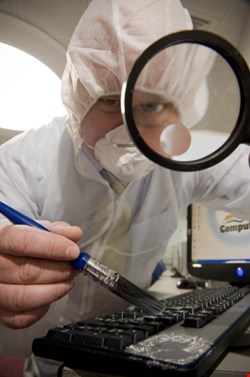 The £75 000 Gateshead College Digital Forensics Lab uses PC-based software to teach in-house information security staff the latest in high tech digital investigation to combat cybercrime such as financial fraud in the form of money laundering or false accounting, and unauthorised access to restricted websites or databases.
The digital forensics lab replicates an industry-standard fraud protection and law enforcement facility, and was designed with support and guidance from Northumbria Police and the North East Fraud Forum, which works to raise awareness of fraud-fighting techniques.
Detective sergeant Alan Batey, head of Northumbria Police's computer crime unit, said: "We are seeing a year-on-year growth in the number of people using computers, the internet and mobile phones to co-ordinate and undertake criminal activities.
"The new Digital Forensics Lab will be a great resource to help companies uncover fraudulent activity, helping them to better protect their business, market share and ultimately profits."
According to the Federation of Small Businesses (FSB), fraudulent internet transactions, phishing and security threats posed by viruses and hackers cost an average small business £800 a year, with some attacks causing losses of several thousands pounds.