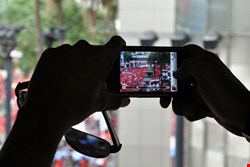 According to a blog by Graham Cluley, senior technology consultant at Sophos, scammers are using people's impatience for the new iPhone to their advantage.
In one scam, Tumblr's "staff" is looking to give away a "free" iPhone 5 to Tumblr users. "We are happy to announce that Tumblr and Apple have joined together in a promotion to giveaway FREE iPhone 5's to each of our users!", the scammers enthuse. You just have to click on the link.
The link actually takes you to a bogus webpage that asks you to take a survey before you can get your "free" iPhone 5. The survey asks for name, email, and other personal information. "You have no way of telling what they're going to do with it, but don't be surprised if you're spammed in the future or subscribed against your wishes to a premium rate mobile phone service", warned Cluley.
This iPhone 5 fraud is similar to scams being used on Facebook in which users are offered "free" products in exchange for filling out surveys, which generate payments for the scammers through affiliated marketing fees, according to a recent report by Commtouch.
Facebook users are induced to click on the scams through such social engineering tactics as free merchandise offers, celebrity news, fake Facebook applications, or a "trusted" friend sending a message, noted Commtouch.