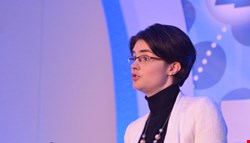 The information security sector is set to drive growth in the UK security industry, according to Chloe Smith, Minister for Political and Constitutional Reform.
In her opening keynote at Infosecurity Europe, Smith pointed out that the UK cybersecurity sector employs some 26,000 people in 2,300 firms. The industry accounts for annual sales of £3.8bn, of which £800m are exports. The infosecurity sector is likely to become more important, as spending falls in other areas of defense and security, she said.
The UK, she said, should play to its strengths in the field, in academic research, R&D, and the number of smaller firms specialising in information security. "There is massive growth potential for UK business, and [the potential] for business to continue to do well," she said.
This, though, means boosting the country's cybersecurity skills base.
The Government plans to boost the sector though a number of measures, including a partnership between the Department of Business, Innovation and Skills and Intellect, the IT industry body, and new cybersecurity "centres of excellence".
These are being set up at 11 UK universities and three research institutes. The National Cybersecurity Programme is also investing in centres for doctoral research in the discipline. GCHQ, the Government communications agency, also recently announced its first apprenticeship scheme. "We are widening the pipeline of talent," said Ms Smith.
The Government is also working directly with smaller businesses, in order to boost their cybersecurity defences, but also to create local partnerships in the field. Ms Smith gave the example of a local firm that had developed an infosecurity certification for smaller firms, and had liaised with an insurance company to give firms with the certification lower premiums.
The Government is also allocating 100 grants, administered through the Technology Strategy Board, that companies can invest in specialist consulting services. The funding, in the form of vouchers, will be worth up to £5,000 each.
Ms Smith said that the measures are necessary because, despite the strength of the UK cybersecurity industry, the country faces a growing range of threats. The Minister pointed out that the Government's own defence mechanisms intercept 33,000 malicious emails every month, and its cybersecurity teams are seeing growth in "more or less sophisticated email and spam".
The Government is investing £650m to boost its own cyberdefences, the Minister said, but cannot work alone.
"We need to protect, and fuel, UK businesses. Industry is by far the biggest victim of cyberthreats, cybercrime and IP theft… which costs billions each year," she said.
"That means forging new partnerships between Government and industry, and also business to business." Although the Government will continue to back the sector, companies and the authorities need to do more to collaborate and share cybersecurity intelligence, she said.