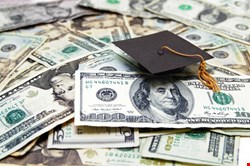 Each scholarship recipient will have the opportunity to complete an undergraduate or master's degree program at University of Phoenix and can choose to attend a local University of Phoenix campus or online. And, he or she will receive a voucher from (ISC)² to take either the SSCP or CISSP certification exam within one year of graduation.

"Educating cybersecurity professionals should be one of the top global priorities," said Julie Peeler, director of the (ISC)² Foundation, in a statement. "The profound staffing and skills shortages in this industry put organizations' reputations and customer data at risk. We are proud to collaborate with University of Phoenix to offer these scholarships and provide learning and career opportunities to the next generation of information security professionals."
The (ISC)² sixth annual Global Information Security Workforce Study (GISWS) revealed that the lack of skilled and qualified information security professionals is negatively affecting both companies and consumers and causing a global economic ripple effect. In fact, more than half (56%) of survey respondents indicated that the staffing shortage is significantly impacting their organizations. Security concerns indicated by respondents included brand damage, breaches of laws and regulations, service downtime, customer privacy violations, and customer identity and corporate intellectual property theft.
"University of Phoenix is committed to providing degree programs and curriculum that reflect real industry needs," said Dr. Tim Welsh, senior vice president for industry strategy at Apollo Education Group, which owns the online school. "There is a clear demand for information security professionals and the University is pleased to collaborate with (ISC)², a globally renowned leader in the information security field, to directly align our education programs with industry staffing needs."

Applications for the University of Phoenix/(ISC)² Cybersecurity Scholarships are being accepted through June 3, 2014.