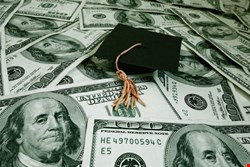 The (ISC)² Foundation Scholarship Program addresses the existing lack of skilled cybersecurity professionals though scholarships for women, undergraduate, graduate and post-graduate students, and with certification exam vouchers for qualifying faculty to ensure a sufficient supply of qualified instructors at the university level.
Recipients were selected by the (ISC)² Scholarship Review Committee, which consists of representatives from the (ISC)² board of directors, academia and the (ISC)² membership.
"On behalf of the (ISC)² Foundation, I'd like to congratulate this year's scholarship recipients for their outstanding applications and a commitment to joining the cyber security workforce," said Julie Peeler, director for the (ISC)² Foundation. "The goal of the scholarship program is to help aspiring and practicing professionals achieve their educational goals and put them on a solid track to join the cyber security workforce. We're thrilled that the program has assisted so many deserving students across the globe that are truly passionate about a career in information security."

Scholarship recipients will be recognized at the 2013 (ISC)² Security Congress taking place later this month in Chicago.

Women's scholarship winners are: Catherine Deleare, US; Pratibha Anjali Dohare, Bhopal, India; and Veelasha Moonsamy, Australia.

Graduate research projects have been awarded to: Mohannad Alhanahnah, UK; Innocent Barigye, Uganda; Pei-Yu Chen, Taiwan; Scott Ruoti, US; Mahdi Zamani, US.

Undergraduate scholarships went to: Mary Brewer, US; William Choi, US; Bruce Clair, US; Christopher Goes, US; Raymond Hernandez, US; Patrick Katamba, UK; Micah Lippold, US; Scott Lohin, US; Kyle Murbach, US.

Faculty certification exam vouchers: Tahir Abbas, Pakistan; Raymond Albert, US; Feroze Ashraff, New Zealand; John Daniels, US; Tom Imboden, US; Supakorn Kungpisdan, Thailand; Vijaya Raju Mullagiri, Albania.

"I am extremely happy to learn that once again, I am the recipient of the 2013 (ISC)2 Foundation Undergraduate Scholarship," said two-time recipient Patrick Katamba, in a statement. "With this continued financial support, I am able to concentrate on what is important: becoming a highly qualified information security professional. (ISC)²'s financial generosity has allowed me to achieve this goal and also continue to strive for excellence in my university studies."

Findings from (ISC)²'s 2013 Global Information Security Workforce Study validate the acute need to develop the information security workforce, with data indicating that the major shortage of skilled cyber security professionals is negatively impacting organizations and their customers, leading to more frequent and costly data breaches.
The scholarship program thus aims to bolster a more skilled and qualified workforce.

"I am currently a graduate student of Information Technology Security at Carnegie Mellon University," said women's scholarship recipient Pratibha Anjali Dohare. "In the future, I am determined to pursue a PhD in Information and Cyber Security. Through my education in this field, I aspire to make the Internet safer against cyber-attacks and internal and external security threats."