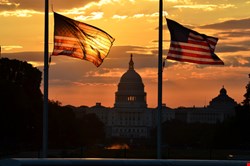 On the same day, the Director of National Intelligence announced that the Foreign Intelligence Surveillance Court (FISC) had renewed approval of the NSA metadata collection program.
The metadata collection program would mean that if a member of congress telephoned somebody abroad, or if somebody abroad telephoned the member, of if he or she was involved in a conversation just two or three hops from a suspect, then the metadata would certainly have been collected and probably analyzed.
One of the big problems between the NSA and the general public has been the precise interpretation of words – the NSA does not equate 'collecting' with 'spying'. So to avoid any confusion, Sanders defined what he meant in his letter.
"'Spying,'" he wrote, "would include gathering metadata on calls made from official or personal phones, content from websites visited or emails sent, or collecting any other data from a third party not made available to the general public in the regular course of business?" Since this is what the NSA does, it could hardly deny it. Instead, at least so far, it has simply avoided the question.
In a statement to the Guardian, the NSA said, "NSA's authorities to collect signals intelligence data include procedures that protect the privacy of US persons. Such protections are built into and cut across the entire process. Members of Congress have the same privacy protections as all US persons. NSA is fully committed to transparency with Congress. Our interaction with Congress has been extensive both before and since the media disclosures began last June."
In other words, the NSA simply hasn't answered Sanders' question – or at least not directly. It implies that members of Congress have the same protections as everyone else; which in turn implies that they are treated like everyone else; which in turn implies that members are subject to what it calls data 'collection' and what Sanders calls 'spying.'
Sanders would have known that Alexander could not deny what he terms 'spying' on members of Congress. His purpose almost certainly was to put the NSA in a position where it could not use semantics to disguise its program – which he describes in his letter to be "clearly unconstitutional". He also quotes Judge Leon's findings that the NSA's behavior is "almost Orwellian."
But Sanders' attempt to clarify the semantics has clearly not worked. Appearing on Fox News on Sunday, Rep. Peter King (R-NY) said, "I think members of Congress should be treated the same as everyone else. If a member of Congress is talking to an Al Qaeda leader in Iraq or Afghanistan, why should that member of Congress be any different from any person on the street?" But then, according to Mediaite, "He added that Sanders was attempting to imply that the NSA is 'spying' on Congress. 'They're not spying on anyone,' he added."