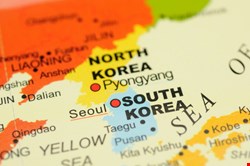 Researcher Yoo Dong Ryul of the Police Science Institute and Cho Young Ki of Korea University are warning that increased cyberattacks should be expected from North Korea for a number of reasons: the Nuclear Security Summit is set to be held in South Korea later this year, South Korea is scheduled to hold general and presidential elections this year, and the young North Korean leader Kim Jong-un is trying to consolidate power after the recent death of his father.
"Given that this year sees the Nuclear Security Summit and the general and presidential elections, and that the pro-North Korea faction has internally promulgated the construction of a strong and prosperous unified nation, actions harmful to national security need to be watched more than ever", they were quoted by the Daily NK as saying at a recent conference.
The researchers have been critical of the South Korean government for not doing enough to defend against cyberattacks. "In terms of holding back the actions of North Korea and pro-North Korea groups in the name of communist revolution, this was wholly inadequate", they said.
They called on the government to set up a temporary cyber task force to handle the expected increase in cyberattacks from the North this year and to push passage of a cyber national security law to provide a long-term solution to the threat.