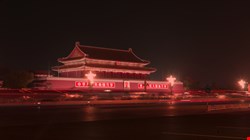 The National Computer Network Emergency Response Coordination Center of China (CNCERT/CC) said that there were 8.9 million attacks against Chinese computers from a total of 47,000 foreign IP addresses in 2011, according to a report by Xinhua news service.
Most of those IP addresses originated in Japan, the US, and South Korea, according to CNCERT/CC.
In terms of website security, a total of 1,116 domestic websites were tampered with by foreign-based hackers; in addition, 95.8% of the server IPs that maliciously falsified the websites of domestic banks were also based overseas, according to CNCERT/CC.
"Generally speaking, malicious IPs based in the US, Japan and the ROK [Republic of Korea] posed the greatest security threat to China last year", said Wang Minghua, vice director of the CNCERT/CC's operations department.
"China has become the world's biggest victim of cyber attacks", said Zhou Yonglin, an information security official from the Internet Society of China.
China has been fingered as the source of numerous cyberattacks against Western targets, including the Operation Aurora attacks against US internet companies in 2009, the Night Dragon attacks against Western oil companies in 2010, and the Nitro attacks against Western chemical companies in 2011.