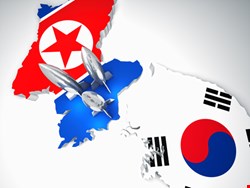 The INFOCON threat scale was raised to four from a base level of five on Monday, according to a report by the Korea Herald newspaper.
With INFOCON raised to four, all branches of the armed forces are reinforcing their cybersecurity personnel and increasing cooperation with the country's National Cyber Security Center. In addition, the computer emergency response teams of the Air Force, Army, Navy, and the Defense Security Command are now on 24-hour alert, the newspaper explained.
South Korea has been the target of cyberattacks believed to originate from North Korea over the last few years.
In July, McAfee concluded that distributed denial of service (DDoS) launched in March against sites affiliated with the South Korean government, military, and civilian infrastructure were the result of a highly sophisticated, coordinated attack, most likely perpetrated by North Korea. The US security firm also concluded that the March attacks were most likely carried out by the same group that carried out a DDoS attack on South Korean and US sites in July 2009.
With the death of Kim Jong-il, his young successor Kim Jong Eun might launch military and cyber attacks against South Korea to demonstrate his control over the military and his strength as a leader.