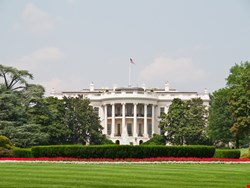 The White House is inviting "citizens, software developers and entrepreneurs from all over the nation to collaboratively create, build and invent new solutions using publicly-released data, code and technology to solve challenges relevant to our neighborhoods, our cities, our states and our country," it said in announcing the plan.
Several organizations are coming together for the event, including Random Hacks of Kindness, Code for America, NASA, the US Department of Labor and even the US Census Bureau.

It's up to the individual communities to plan their events, but the feds suggest that they consider hackathons, block parties and brigade meetups. Participants will be given a set of government data with coding challenges to kick things off.
"The National Day of Civic Hacking will provide citizens an opportunity to do what is most quintessentially American: roll up our sleeves, get involved and work together to improve our society," the White House said. "The event will leverage the expertise and entrepreneurial spirit of those outside federal, state and local government to drive meaningful, technology-based solutions for federal, state and local government."
Cities selected to host the initiative include Austin, TX, Ann Arbor, MI, Bend, OR, Boston, MA, Honolulu, HI, Milwaukee, WI, Portland, OR, Savannah, GA and Tucson, AZ, among other locales.