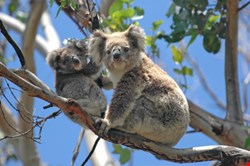 The Australian Communications and Media Authority (ACMA) surveyed the population of Oz regarding its perceived likelihood of experiencing malware infections, and found that 43% to 50% believe that harmful software or malware was an unlikely risk to their computer. Only about one third (28% to 33%) believe that it is a likely risk, and a substantial minority (22% to 25%) gave a neutral response or said they did not know if there was a risk.
The study found that perceptions of likely risk from malware increased with the age of internet users, and risk was regarded as more likely by people who speak languages other than English at home. The perceptions seem to influence online activities as well: the risk of their computers being infected by malware was perceived as 'highly unlikely' by more internet users who did not make online financial transactions compared to those who did. Presumably, if one felt that a malware infection were highly likely, one wouldn't engage in online finance.
Yet, almost three-quarters of Australian adults (74%) – or 88% of internet users – reported making online financial transactions which included online banking, shopping or paying bills. Australians aged 18–34 years were more likely to make online financial transactions (91%) than the 65 years and over age group (43%).
Survey respondents were asked about four different examples of harmful software or malware. The examples given were software that "allows others to use your computer to send out spam or redirect you to fake websites", "allows others to steal your personal or financial information", "allows others to identify the websites you have visited and access your emails" and "affects the way your computer operates".
The findings indicate a potentially large issue considering the penetration of internet use in the country. The study found that 86% of Australian adults used the internet for personal purposes. Personal internet users comprised almost all of the 18–24 age group (99%) and usage declined with age. People aged 65 years and over were least likely to be internet users (60%).
The good news is that the research indicates that most adult internet users were active in protecting their home computers and laptops from harmful software and viruses.
Only 10% reported that their home computer or laptop does not have protective software, and a further 8% said that it is not regularly updated. Almost a fifth though reported that operating systems are not kept up-to-date (19%).
Key reasons mentioned for not having protections were: having a computer brand that does not get infections (15%); having no need of protections (12%); and not knowing how to install antivirus protection or how to update computer software (9%).
Aside from antivirus software, other methods of minimizing risks from harmful software were in use on a fairly widespread level, indicating some maturity in threat prevention know-how. These included not clicking on email links from unknown senders (82% of internet users with home computers or laptops), immediately deleting emails from unknown sources (82%), not visiting certain websites (79%), keeping browsers up-to-date (78%) and keeping program software up-to-date (76%).
Internet users were considerably less certain about whether their mobile phone and other mobile devices are protected against harmful software. Just over half (52%) of adults who usually used a mobile device (for financial transactions or social networking) said that their devices are protected. Almost a quarter reported that it was not protected (24%) and the same proportion said they did not know (24%).
Key reasons for believing mobile devices are protected from harmful software were: believing that the device operating system has built-in protections (36% of people who said their device is protected) the installation of protective software themselves (29%); a lack of any problems or infections (8%); and no reason/did not know (10%).
The ACMA has rolled out several initiatives to educate the public about online risk, notably the Australian Internet Security Initiative (AISI), under which participating internet service providers (ISPs) and universities are notified of malware infections affecting their customers; and the ACMA's Cybersmart program, which helps children and families to use the internet safely and securely.