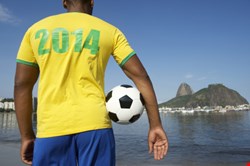 Online collective Anonymous claimed to have come good this week on warnings that it would be targeting the websites of FIFA World Cup sponsors with DDoS and other attacks ahead of the tournament's opening in Brazil on Thursday.
Hacktivist "Che Commodore" told
Reuters
on Wednesday that dozens of sites linked with the competition have been attacked already.
"We had a busy last few days and there is more still to come," he added.
On
checking a list
of supposedly targeted sites tweeted by the hacktivist – including those of sponsors and the Brazilian government – Infosecurity found several government sites still down, although the commercial web properties appeared to be functioning as normal at the time of writing.
Those offline include the sites of the Brazilian Department of Justice and Consumer Citizenship and intelligence agency ABIN.
Last week, the same
hacktivist claimed
that Anonymous had shortlisted several big name sponsors of the tournament for the DDoS treatment, although their websites also appear to be up as normal.
"We have already conducted late-night tests to see which of the sites are more vulnerable," he said at the time. "We have a plan of attack."
#OpWorldCup is a protest against the huge sums of money being lavished on the tournament when massive social inequality and crippling shortfalls in public services still exist in the country.
"You have created a system which ensures the poor remain poor, and the wealthy remain wealthy. It is very clear to us that you have no intention of running the country for the people, but you will continue to run it for your own personal interest," Anonymous said in a
statement.
"Anonymous demands that the government of Brazil put an immediate end to corruption and stop the use of force and violence against peaceful demonstrators."
Edward Parsons, senior manager in KPMG's cyber security team, said that most organizations will have heeded the warnings to bolster their web infrastructure.
"DDoS mitigation is possible but attacks are getting bigger in scale as capability once in the hands of only sophisticated actors becomes available as a service," he added. "Businesses therefore need to determine whether the outlay in cost is worth incurring to allay this risk. Otherwise it will not be a question of if, but when they will be attacked and brought down."