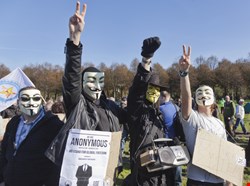 If anything, it is looking to swell its ranks, publishing a note about how to join and indicating how to get in touch via Twitter and IRC in an initiative titled #OpNewBlood.
The group also drafted up a short video consisting of clips from CNN and other news sources that plays like a greatest hits album, noting its highlights of 2012. It starts with its successful compromise of the USDepartment of Justice after the government took down file-sharing behemoth MegaUpload, and noted its attacks in the same campaign against the Motion Picture Association of America, the FBI and Universal Pictures.
But it's not just copyrighted material that has the group vowing action in 2013. Politics is its other raison d'etre. The video noted the collective's ongoing attacks against the Syrian government in the wake of the civil violence in that country and its efforts to keep the population online there despite a massive cable cut. And, it talked about attacks carried out in the name of gaining transparency into the Israeli nuclear program and protesting the recent attacks on Gaza, like posting the personal information of 5,000 Israeli officials.
"The video was made in teamwork by Anons around the world and it content belongs to the Internet," the group noted in its typical, grammatically-challenged syntax. "This is only an excerpt from the actions of Anonymous during 2012. The operations which are listed in the video are only examples, there are far more operations. Some of them still running like Operation Syria."
While most researchers are predicting continued influence by the group throughout the rest of the year, some are bucking the notion. McAfee in its 2013 Threat Predictions report argued that "Sympathizers of Anonymous are suffering. Too many uncoordinated and unclear operations have been detrimental to its reputation. Added to this, the disinformation, false claims and pure hacking actions will lead to the movement's being less politically visible than in the past. Because Anonymous' level of technical sophistication has stagnated and its tactics are better understood by its potential victims, the group's level of success will decline. However, we could easily imagine some short-lived spectacular actions due to convergence between hacktivists and antiglobalization supporters, or hacktivists and ecoterrorists."
So will Anonymous fade into memory like the Mayan Apocalypse? It remains to be seen if the group can rise to the challenge.