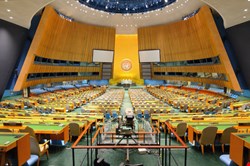 The UN and China are set to hold their first bilateral talks on information and network security later this week, as Chinese state media claimed that US tech firms including Google, Apple, Yahoo and Microsoft could all pose a potential security threat to Middle Kingdomers.
The talks will be the first held between the People's Republic and the UN on the topic of cybersecurity and are designed to improve international co-operation in order to facilitate a more secure and open cyber space, according to Foreign Ministry spokesman Hong Lei (via
Xinhua
).
Representatives from over 20 nations will apparently join the symposium, with Chinese vice foreign minister Li Baodong making the opening keynote.
Critics will say the event is nothing more than a typically stage-managed attempt by Beijing to portray itself as an advocate of greater international cooperation and harmonized rule-making on cybersecurity, after its reputation was tarnished by the
PLA indictments
a fortnight ago.
Another strategy it has been following since the indictments – which has been given extra momentum by the revelations of NSA spying from whistleblower Edward Snowden – is to question the security of US tech products and services.
First, Beijing announced a new policy whereby it would be
screening all foreign technology
used by the government for security vulnerabilities. Then state-run media
accused Cisco
of complying with US state sponsored espionage in China and claimed that the government was looking to replace IBM servers.
The latest smear on US tech companies comes from the
China Daily
, which quoted carefully sourced "security analysts" as claiming that Chinese organizations are at risk if they use online services provided by companies like Yahoo, which have had agreements in place with the NSA to allow snooping on user info.
The report also cited a major piece of propaganda pushed out by Beijing via
Xinhua
last week, a report titled
The United States' Global Surveillance Record
, which seems to regurgitate most of the information made public by Snowden.
Although China has already
banned Windows 8
from government computers, there's no suggestion that it will follow-up these rabble-rousing news stories from its media by actually kicking various US tech firms out of the country.
Given China currently has no genuine home-grown alternative to Android and Windows, and that banning other firms would cause significant business disruption to local firms, it's likely to be used more as potential diplomatic leverage in future talks.