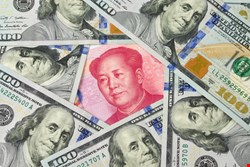 The Chinese government has decided to start screening IT kit destined for government departments, ostensibly in a bid to bolster national security but in a move many will see as deliberately aimed at Washington.
The State Internet Information Office claimed the vetting process was designed filter out products and services that illegally gather and store customer information and to close down the risk of IT suppliers controlling or disrupting customers' systems, according to state-run
Xinhua
.
Any suppliers that don't agree to the new checks will be barred from the Middle Kingdom.
The announcement will be viewed by many as a response to revelations of NSA spying and
allegations
of installing backdoors on US-made IT products before export.
In fact, NSA whistleblower Edward Snowden is even referenced in the report, with State Internet Information Office spokesman Jiang Jun claiming his disclosures have shown that "without cyber security there's no national security."
"For a long time, governments and enterprises of a few countries have gathered sensitive information on a large scale, taking the advantage of their monopoly in the market and technological edge," he's quoted as adding. "They not only seriously undermine interests of their clients but also threaten cyber security of other countries."
The move can also be seen as a belated response to a
congressional report
in 2012 that branded Chinese telecoms kit makers Huawei and ZTE a national security risk, effectively ending any chance they had of breaking into the US market.
The announcement is also notable for its timing, coming just days after
Washington indicted
five PLA officers for allegedly hacking US firms over a several year period.
Charles Sweeney, CEO of web filtering company Bloxx, argued that many will question whether the announcement has been timed for maximum impact.
"Given the political backdrop to this, I would imagine that many Western vendors might be feeling a little hot under the collar about it all. But what can they do?" he told Infosecurity. "The fact that other government's around the world, most notably the US, also carry out vetting procedures means that no one can call the move into question or they risk looking like a hypocrite."
The stand-off between Beijing and Washington could indeed spell trouble for US technology firms operating in China. Earlier this week China announced a
ban on Windows 8
for all new government computers.