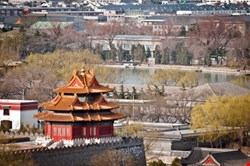 The Chinese government appears to be stepping up reprisals against US technology firms after last week's
indictments by Washington
against five PLA officers, with both IBM and Cisco facing potential problems in the Middle Kingdom.
Four people "familiar with the matter" told
Bloomberg
on Tuesday that various government ministries are asking banks to replace IBM servers with home-grown machines as part of a new trial, as they review whether reliance on US-made IT kit is a national security risk.
The review will ultimately report back to a working group headed by president Xi Jinping, the sources claimed.
For its part, IBM sent the following statement to Infosecuriy:
"IBM is not aware of any Chinese government policy recommending against the use of IBM servers within the country's banking industry. In fact, news reports now state that China's National Development and Reform Commission has not heard of any alleged directive to that effect. IBM is a trusted partner in China and has been for more than 30 years."
Cisco has also been caught in the cross-fire as US-Sino tensions rise.
The state-run China Youth Daily claimed in an article this week that the networking giant basically complies with US state-sponsored cyber espionage in China.
The allegations are important because China's strictly controlled media landscape ensures that nothing is published which doesn't first get the seal of approval from the Communist Party.
Cisco "carries on intimately with the US government and military, exploiting its market advantage in the Chinese information networks, playing a disgraceful role and becoming an important weapon in the U.S. exploiting its power over the internet", the article said (tr.
New York Times
).
Cisco has strongly denied the allegations.
Beijing also announced last week that
Windows 8 would be banned
from all new government computers in a bid to ensure "computer security" and business continuity after support for XP was withdrawn.
China announced late last week that it would be
vetting IT products
for vulnerabilities in a bid to bolster national security. The move was widely seen as a tit-for-tat response to Washington's indictment last Monday of Chinese state actors over cyber espionage.
US State Department spokeswoman, Jen Psaki, claimed that those indictments don't provide "any justification for retaliation against US businesses or the US government", according to Bloomberg.
However, China will claim that it is only taking adequate precautions against a growing cyber espionage threat from the US National Security Agency – one made very public with the revelations that have spilled from whistleblower
Edward Snowden.
Beijing can also argue it is only doing what Washington did in 2012, after a
congressional committee investigation
into Huawei and ZTE concluded that the two Shenzhen telecoms kit makers were a "national security risk".
The report effectively ended their respective telecoms equipment businesses in the US.