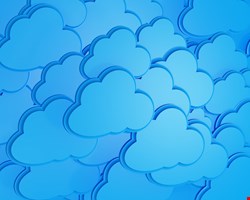 In turn, that will drive new security ramifications: by the end of the decade, IDC expects at least 80% of the industry's growth, and enterprises' highest-value leverage of IT, will be driven by cloud services.
The research also found that between now and 2016, public IT cloud services will enjoy a compound annual growth rate (CAGR) of 26.4%, five times that of the IT industry overall, as companies accelerate their shift to the cloud services model for IT consumption.
IDC defines public IT cloud services as those offerings designed for the unrestricted market, as opposed to private cloud deployments, which are dedicated to a specific customer.
"Quite simply, vendor failure in cloud services will mean stagnation," said Frank Gens, senior vice president and chief analyst at IDC. "The IT industry is in the midst of an important transformative period as companies invest in the technologies that will drive growth and innovation over the next two to three decades."
Cloud security is becoming an increasing focus for researchers and the industry as enterprises turn more to the medium. So far security remains a concern for many businesses and public sector entities, but to enable the broader IT market, many are tackling the issue with gusto. IDC's expectation is that public clouds will mature and eventually incorporate many of the capabilities (particularly security and availability) that make private clouds an attractive option today.
"The rise of cloud as a global compute utility creates a mandate to better harmonize compliance concerns," said Daniele Catteddu, managing director EMEA at the Cloud Security Alliance, in announcing a new open security framework, an industry initiative that offers cloud providers a trusted global certification. "We have a commitment to improve transparency in the cloud ecosystem and create a market of trusted cloud services."
By 2016, IDC says that public IT cloud services will account for 16% of IT revenue in five key technology categories: applications, system infrastructure software, platform as a service (PaaS), servers and basic storage. More significantly, cloud services will generate 41% of all growth in these categories by 2016.
Software-as-a-service (SaaS), which includes both applications and virtual infrastructure, will claim the largest share of public IT cloud services spending over the next five years. But other categories, notably basic storage and platform-as-a-service, will show faster growth. Accelerating PaaS rollouts over the next 12–18 months will be critical to maintaining strong cloud momentum, IDC noted.
Geographically, the US will remain the largest public cloud services market, followed by Western Europe and Asia/Pacific (excluding Japan). But the fastest growth in public IT services spending will be in the emerging markets, which will see its collective share nearly double by 2016 when it will account for almost 30% of net-new public IT cloud services spending growth.