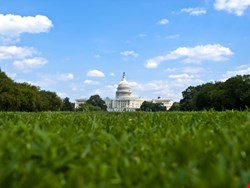 Rep. Ed Markey (D-Mass.) and Rep. Joe Barton (R-Texas), co-chairmen of the Congressional Bi-partisan Privacy Caucus, sent a letter on Friday to the FTC asking the agency to probe whether the lack of an opt-out provision in Google's new privacy policy, which allows the company to track activities of users across most of its services, violates the company's consent agreement reached last year over the Buzz social network.
"This new policy and omission of a consumer opt-out option on a product-by-product basis raises a number of important privacy concerns….We are interested in any actions the FTC has taken or plans to take to investigate whether Google has violated the terms of its consent agreement", the representatives wrote.
In October, the FTC and Google settled charges that the company used deceptive practices and violated its own privacy policy by making it difficult for Gmail users to opt out of the Buzz social network.
Goggle agreed to a settlement in which the company would be prohibited from future privacy misrepresentations. It also required Google to implement a comprehensive privacy program, in addition to regular independent privacy audits over the next 20 years.
Google responded to the recent criticism over its new privacy policy by stressing that users will still have choice and control. "You don't need to log in to use many of our services, including Search, Maps and YouTube. If you are logged in, you can still edit or turn off your Search history, switch Gmail chat to 'off the record,' control the way Google tailors ads to your interests, use Incognito mode on Chrome, or use any of the other privacy tools we offer", explained Betsy Masiello, Google policy manager, in a blog.
"You can use as much or as little of Google as you want. For example, you can have a Google Account and choose to use Gmail, but not use Google+. Or you could keep your data separate with different accounts – for example, one for YouTube and another for Gmail", she added.