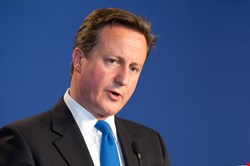 British prime minister David Cameron will today announce a major £1.1 billion defense spending plan, much of which will be allocated towards cyber warfare and intelligence capabilities.
Writing in
The Telegraph
, Cameron argued that a "modern, technological, advanced and flexible armed forces" is a "national necessity".
Today's enemy "may be seen or unseen", meaning greater investment in cyber warfare, drone technology and Special Forces capabilities are a must, he added.
"That is what we are investing in today. The majority of the money - £800 million – is being spent on intelligence and surveillance equipment," said Cameron. "It includes the latest in cyber defence technology and surveillance aircraft that can fly over areas like the Horn of Africa, identifying any terror threats to the UK and our allies."
The remaining £300m will be allocated towards "existing capabilities" including a new E-Scan radar for the UK's Typhoon fighters and the purchase of an ice patrol ship, HMS Protector, according to
Downing Street
.
The announcement, which will be made at the Farnborough Airshow today, is short on additional detail.
However, it should be welcomed by security experts as another sign that the government is taking seriously the growing threat to the economy and national security posed by attackers operating from cyberspace.
Charles Sweeney, CEO of web security firm Bloxx, praised the spending pledge but said it needs to be augmented by investment at a local level.
"Earlier this year an HMIC
report
found that just 3 in 43 police forces had developed adequate cybercrime policies," he told
Infosecurity
.
"This undermines the need to have centralized and local resources to ensure adequate national security. These inconsistencies must be addressed if Cameron's grand vision is to be realized."
This isn't the first major investment in cybersecurity by the coalition.
It allocated £650m of funding to a National Cyber Security Programme running 2011-2015, followed by an additional pledge last year of £250m for 2015-2016.
However, elsewhere, there have been concerns about Downing Street's moves to bolster national security by ramping up surveillance capabilities.
NSA whistleblower Edward Snowden slammed a new bill being rushed through parliament this week which civil liberties groups fear could increase the power of agencies like GCHQ.
"Is it really going to be so costly for us to take a few days to debate where the line should be drawn about the authority and what really serves the public interest?" Snowden told
The Guardian
.
"If these surveillance authorities are so interested, so invasive, the courts are actually saying they violate fundamental rights, do we really want to authorize them on a new, increased and more intrusive scale without any public debate?"
He added that the proposed UK law "very closely mirrors" the Protect America Act 2007 which the Bush administration pushed through by stoking fears of another 9/11.